Loewe bild i.77 dr+ – outstanding OLED TV in a new size
Smart, flexible, individual:
Continuing to expand the OLED TV series bild i, Loewe is introducing a new top model with an impressive 77-inch (196 cm) screen diagonal, the Loewe bild i.77 dr+. As with all bild i models, Loewe uses the latest display technology and first-class hardware. Thus, the Loewe bild i.77 dr+ stands for breathtaking picture quality, fast and intuitive control, state-of-the-art OLED technology, intelligent additional functions, and exclusive design.
Since its market launch, the Loewe bild i product line has undergone constant further development and has since become synonymous with super-fast and smart streaming TVs: Thanks to many features and apps, powerful sound solutions and a wide range of optional set-up solutions, Loewe offers an individually configurable home entertainment system with the bild i series. By adding the new top model in 77 inches, the product range is now available with first-class 4K OLED panels in the sizes 77, 65, 55 and 48 inches. Thus, the right picture size is available for every customer requirement.
Latest UHD OLED panel with perfect brilliance
The Loewe bild i.77 dr+ offers high-contrast images and an impressive color spectrum thanks to its latest Ultra HD OLED panel. In addition, state-of-the-art technologies such as HLG, HDR 10 and Dolby Vision™ support the image processing. The Loewe bild i.77 dr+ is already calibrated at the factory, so excellent picture quality is guaranteed from the first time the TV is switched on. Based on algorithms optimized over decades, this Loewe flagship TV achieves a natural, harmonious picture with standard-compliant and pinpoint accuracy, delighting with video reproduction at the highest level.
Sophisticated electronics and convenient recording
The technical basis is the Loewe chassis SL7 with the latest operating system Loewe os7.4. Just four seconds after switching on, the Loewe bild i.77 dr+ is ready to go. The smart TV's sophisticated technology leaves nothing to be desired, and users can quickly navigate to the requested functions in the intuitively designed menu. With the Loewe dr+ hard disk recorder with 1 TB of capacity integrated as standard, spontaneous or programmed recording of TV shows or pausing with time shift becomes effortless.
All features and convenience functions are just a push of a button away on the remote-control Loewe remote. Thanks to the integrated voice assistant, Bluetooth, and direct buttons on the remote-control for numerous streaming services, operation is intuitive and effortless. In addition, the Loewe bild i.77 dr+ has an extensive selection of native apps installed, such as Apple TV+, YouTube, Zattoo, HD+, Netflix, Amazon prime video, DAZN, FIFA+ and Disney+. The clearly arranged Loewe home screen shows all important content and an almost limitless selection of entertainment options at a glance. Television, video-on-demand, listening to music, surfing the Internet, or using online services are just a few of the functions that the Loewe smart TV easily combines and reproduces in first-class picture quality.
Together with the latest Loewe os7.4 software, the Loewe Chassis SL7 also offers numerous functions for hotel TV and home automation. This includes compatibility and support for Control4 and Crestron systems for controlling home automation systems.
Impressive sound - with modular Loewe Audio components
The two Loewe home cinema sets 553 and 531, the soundbar Loewe klang bar5 mr with the subwoofer Loewe klang sub5 or the soundbar Loewe klang bar3 mr are the ideal sparring partners for the Loewe bild i.77 dr+ to create impressive cinema sound. These active Loewe audio components all support Dolby Atmos with up to 5.1.2. surround channels as well as HDMI eARC for extended audio formats of the latest film or series productions with up to an impressive 1,360 watts of total music power.
In addition, thanks to the open multi-room systems DTS Play-Fi, Apple AirPlay and Google Cast, further Loewe klang mr speakers can be integrated to form a multi-room system. For larger rooms, any number of Loewe klang sub5 subwoofers can be used.
Quality in modern design with individual installation solutions
The Loewe bild i.77 dr+ is a true centerpiece from all angles thanks to its 360° design with lacquered and fabric-covered back panel and hidden cable routing. It also impresses as a thoughtfully arranged, central design statement with a lot of attention to detail. For example, a magnetic cover conceals the numerous connection options as well as any cables that might interfere. Thanks to this elegant design, the Loewe bild i.77 dr+ integrates harmoniously into any interior.
The sophisticated and exclusive design is complemented by the flexible set-up solutions that turn the Loewe bild i.77 dr+ into an aesthetically appealing home cinema: Flat on the wall with the tiltable Loewe wall mount universal, free-standing in the room on the Loewe floor stand flex, or free-floating on the Loewe floor2ceiling stand. With both stand solutions, the television can be rotated as needed and the cables disappear into the concealed cable guide. One special highlight is the Loewe floor2ceiling stand: This spectacular installation solution in the form of a floor-ceiling rod can be individually adjusted depending on the ceiling height (up to 2.90 meters) and the desired TV height position (from 65 cm).

Loewe bild i.77 dr+ with floor2ceiling stand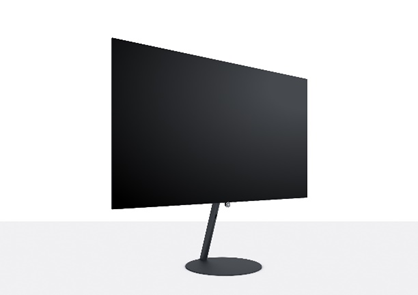 Loewe bild i.77 dr+ with floor stand flex
Kategorien
242

National

50

International