Loewe klang bar5 mr and Loewe klang mr loudspeaker received EISA Award "Best Product 2022-2023 Home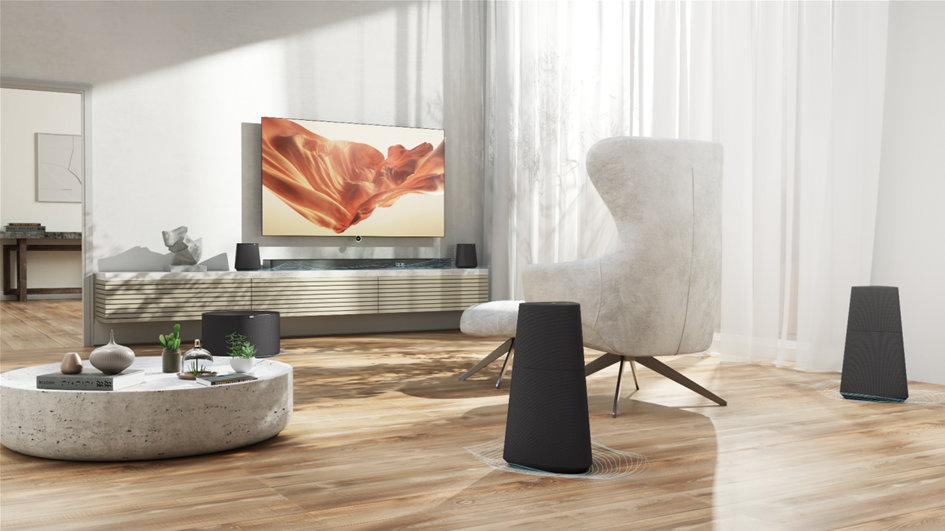 Loewe products regularly receive prestigious awards and excellent test results that impressively demonstrate their outstanding quality and performance. This year was no exception: the combination of Loewe klang bar5 mr, Loewe klang mr **speakers and the Loewe **klang sub5 subwoofer received the EISA Award "Best Product 2022-2023 Home Theatre Solution".
Not only in the field of TV sets, but also in the audio segment, Loewe stands for the best German engineering and continuously sets new standards in picture and sound. Numerous excellent test results in European media as well as the annual awards from EISA are convincing proof of this. Thus, the smart 5.1.2 Dolby Atmos Multiroom soundbar Loewe klang bar5 mr in a set with the Loewe klang sub5 subwoofer ensures a home cinema experience of the highest level. Combined with the Loewe klang mr5, Loewe klang mr3 and Loewe klang mr1 Multiroom speakers, a first-class home theater solution is created.
EISA Award 2022-2023
For nearly 40 years, the Expert Imaging and Sound Association (EISA) represents the largest independent global panel of consumer electronics tech specialists. It consists of a group of 60 leading tech publications from 29 countries. Each year, the EISA jury awards the best products in their class in terms of performance, innovative technologies and unique design.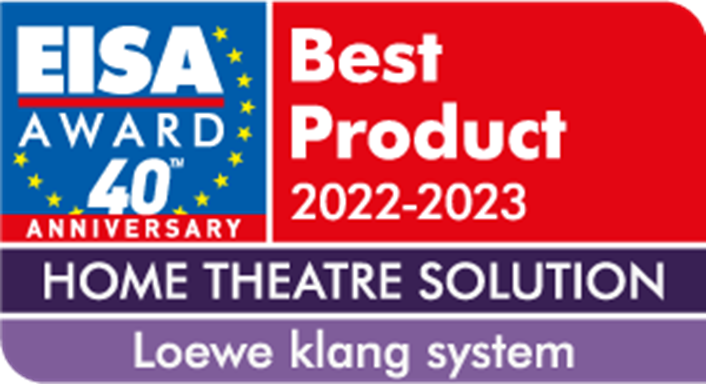 The EISA jury declares Loewe Audio products "Best Product 2022-2023 Home Theatre Solution": "The klang bar5 mr and sub5, a high-quality Dolby Atmos and DTS:X-enabled soundbar system suitable for TVs 55 inches and above, represent the pinnacle of Loewe's range of networked audio hardware. A driver combination provides native or processed 5.1.2 channel sound, and the sound field can be expanded with any klang mr multiroom/streaming speaker from Loewe for an immersive 7.1.2 experience. The build quality and design of the entire range is first-class, and the sound is rich, expressive and exceptionally detailed. Loewe's commitment to features pays off too – Wi-Fi options include DTS Play-Fi, Apple AirPlay and Google Home, making it easy to add music streaming to any home cinema."
Thomas Putz, Chief Technology Officer at Loewe, comments on receiving an EISA Award: "The journalists affiliated with EISA have been an institution with the highest level of expertise for decades. Accordingly, we are exceptionally pleased that products from our still relatively young audio division have already been able to convince the EISA jury. On the one hand, the award reflects our standards of excellence and exclusive design, while on the other hand also being a recognition of our team's outstanding achievements".
Loewe klang bar5 mr + Loewe klang sub5
The smart 5.1.2 Dolby Atmos Multiroom soundbar Loewe klang bar5 mr in a set with the Loewe klang sub5 subwoofer ensures a home cinema experience at the highest level. With a total music output of 800 watts, crystal-clear, powerful Dolby Atmos sound is guaranteed. The sophisticated system delivers the best possible audio experience for a wide variety of content. Dialogue-heavy chamber plays, brutal action thrillers, HD music streams or gaming with multi-channel sound all come into their full potential with this set. The native app and extensive wireless capabilities enable not only all streaming services, but also technologies such as Google Chromecast™ and Apple AirPlay 2®. Three HDMI connections, 4K upscaling and 4K pass-through leave nothing to be desired when connecting to UHD players, set-top boxes and game consoles. Loewe's new Multiroom platform makes expanding the system very easy, as additional Loewe klang mr **speakers can be added to the existing setup within seconds.
The Loewe **klang bar5 mr also shows its best side in terms of design with the Loewe klang sub5. The clear design language and high-quality materials enrich every interior and perfectly complement the Loewe TV lines.
Loewe klang mr loudspeaker
With the Loewe klang mr5, Loewe klang mr3 and Loewe klang mr1 Multiroom speakers, Loewe Technology also offers three products of sound art that distribute audio content and music throughout the home. Designed in a conical look and covered with elegant acoustic fabric, the visual appearance of the speakers is superior and elegant. The three speakers also set the tone acoustically: the Loewe klang mr5 and the Loewe klang mr3 support the high-resolution Flac standard (192 kHz) and guarantee the highest level of enjoyment even for demanding hi-fi enthusiasts. With a total music output of 180 watts, the Loewe klang mr5 can effortlessly fill larger rooms with sound. The Loewe klang mr3 reaches 120 watts and is therefore suitable for medium-sized rooms, while the compact Loewe klang mr1 with 30 watts of total music output is ideal for smaller rooms.
The Loewe klang mr speakers stand for audiophile high enjoyment in any room. They are based on the Loewe Multiroom platform and can be combined in any way to enjoy music in any room. They can be conveniently operated via Apple Airplay 2® or Google Chromecast™ and offer access to numerous popular streaming services in no time at all. A touch display on the top of the speakers provides additional options and information about the current playback.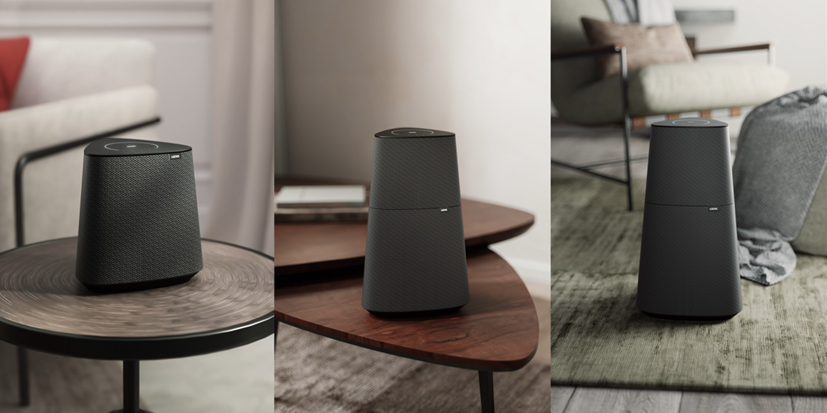 About Loewe.
For almost a century, Loewe has been a symbol of inventiveness and luxury consumer electronics products. From its foundation in 1923 to the invention of electronic television in 1931, Loewe has developed into a globally operating company with a long tradition. With 200 employees and an international sales network, Loewe Technology GmbH is active in 36 countries today with its high-end, elegant TV and audio products. The global brand is passionate and proud of its exceptional innovative strength, tradition and perfect craftsmanship "Made in Germany". Its unique combination of German engineering, excellence, exclusive design and sustainability has shaped the brand's culture. Yet, the tradition-rich manufacturing plant and the high-tech production site at the headquarters in Kronach, Upper Franconia, are the very heart of Loewe.
www.loewe.tv
Press contact:
(please do not print)
Redaktionsbüro Stehle
Emdener Straße 5
90425 Nuremberg
Germany
Phone: +49 911/ 3 777 900
Mail: redaktionsbuero-stehle@t-online.de
Kategorien
212

National

48

International