Loewe iconic with 55 and 65 inch screen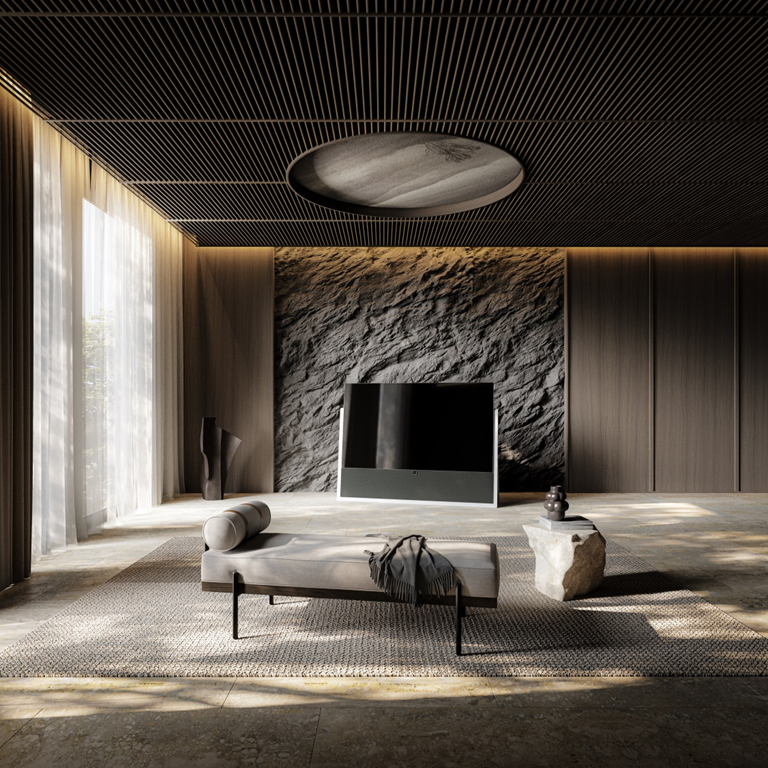 Loewe Technology presents Loewe iconic, a new, striking design TV model. Loewe iconic is more than just a high-quality TV with sound system, Loewe iconic is a sculptural, all-encompassing design icon – available in two exclusive color variants, Graphite Grey and Clay White. Loewe iconic is also Made in Germany.
For nearly a century, the Loewe brand has stood for inventiveness and luxury consumer electronics products. Along with the unique Loewe design, the pioneering spirit and many years of experience of Loewe experts in the development of innovative technology are the DNA of the brand. The symbiosis of Loewe's in 2020 newly established audio category in combination with the traditional TV category culminates in the new, extraordinary design work: Loewe iconic.
Loewe iconic is not a standard TV, it refines the interior with its sculptural form into an artful and gallery-like living space. Thus, the home becomes more than just a room to live in – it becomes a place to indulge in art, craft and culture – with Loewe iconic as a lovingly designed, central element. The basis is the unique, high-quality installation solution made of Syno-Stone material. Syno-Stone is a solid surface material that is durable and also extremely hygienic thanks to its non-porous surface. With Graphite Grey and Clay White, there are two exclusive color variants to choose from.
The sweeping and elegant design language with the 360-degree design that is characteristic of Loewe fits ideally into artful and artistically influenced interiors and is thus perfect for all those who want to experience a design classic of the future. This powerful set-up solution was created by Loewe's German design forge at its headquarters in Kronach.
Loewe** iconic** combines unique design with state-of-the-art TV and audio technology. There are two variants and state-of-the-art OLED displays in screen sizes of 55 and 65 inches to choose from. In addition, a sound bar is elegantly integrated behind the fabric panel. This allows picture and sound to be enjoyed perfectly: With artfully designed, calibrated colors and tones, music and voices that sound so real it is an art in itself.
The Loewe Premium Service for these special TV models is also exceptional: the exclusive set-up and installation service by a specialized Loewe dealer is part of the package.
State-of-the-art TV technology – individually calibrated
In both stylistically exceptional TV models Loewe iconic.65 and Loewe iconic.55, the latest OLED panel generation in conjunction with the calibration performed individually for each set ensure a perfect TV picture. Manufactured on a high-tech production line at Loewe's headquarters in Kronach, the ultra-high-resolution 4K OLED TVs are already calibrated at the factory, so that excellent picture quality is guaranteed from the first time the device is switched on. Based on decades of optimized algorithms, the Loewe iconic models achieve a natural, harmonious picture and delight with enjoyable home cinema at the highest level. Thanks to HLG, HDR10 and Dolby Vision™, high-contrast images and an impressive color spectrum whisk viewers away to infinite expanses.
Two powerful options to select from
Two chassis variants are available for the Loewe iconic: SL5 and SL7. Both are developed and produced in Germany. They are characterized by durability and repairability and thus stand for high sustainability.
The SL5 version offers the Loewe dr+ features: favorite shows can be recorded easily without an external USB hard drive. The Loewe iconic with SL5 chassis has a
1 terabyte integrated dr+ hard drive. This provides almost unlimited recording time of TV shows. Thanks to the integrated dual-channel system and dual tuner for all modes of reception, two TV shows can be recorded simultaneously, or one program can be watched and another recorded. Programs can also be interrupted and continued later with a time delay. In the recording archive, the recordings are displayed in a clear preview image with the program title and date. An Amazon Fire TV Stick 4K Max is included in the scope of delivery. The SL5 chassis also offers a special sound feature: With Mimi Sound Personalization™, the sound can be adjusted to the viewer's individual hearing ability.
With its sophisticated technology, the SL7 chassis is ideal for video on demand: VoD users can quickly navigate to the desired functions in the menu thanks to the modern handling. With the integrated Loewe dr+ hard disk recorder and 1 TB of hard disk space as standard, recording TV shows is easy. The clearly laid out Loewe home screen shows all important content and an almost limitless selection of entertainment options at a glance. Watching TV, watching video-on-demand, listening to music, surfing the Internet or using online services are just a few of the functions that the Loewe iconic easily combines in this variant and reproduces in first-class picture quality.
A natural audio experience with impressive, room-filling cinema sound
Perfectly integrated into the design, the soundbar offers a natural audio experience with impressive, room-filling cinema sound and excellent speech intelligibility even in larger rooms. This is ensured by 360 watts of total music power. The soundbar is a 3.1 sound system that can easily be expanded to a 5.1 constellation. It has three integrated speakers (left, right and center) and two subwoofers. Dolby Atmos, DTS:X, Multiroom via Play-Fi, WDAL, AVR adapters are supported. In addition, two front and two rear speakers as well as a subwoofer (e.g. Loewe klang mr1/3/5, Loewe klang sub1) can be paired wirelessly without latency. When front speakers are paired, the soundbar's left and right drivers automatically convert into center speakers. Pairing older active speakers or active amplifiers is also possible via AVR adapters without an additional adapter solution.
Prices & Availability
Loewe iconic TV-models are available to authorised retailers from November 2022.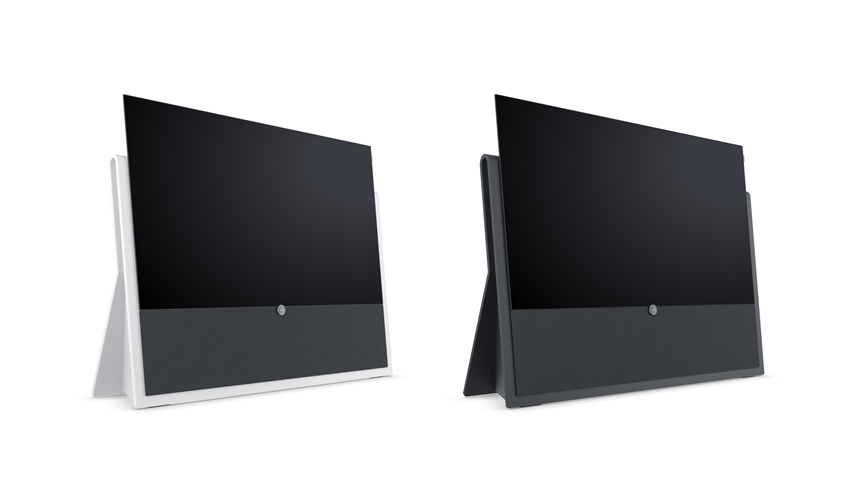 The recommended retail prices:
Loewe iconic.65: 7.999 EUR*
Loewe iconic.55: 6.499 EUR*
* Recommended retail price by Loewe Technology GmbH

About Loewe.
For almost a century, Loewe has been a symbol of inventiveness and luxury consumer electronics products. From its foundation in 1923 to the invention of electronic television in 1931, Loewe has developed into a globally operating company with a long tradition. With 200 employees and an international sales network, Loewe Technology GmbH is active in 36 countries today with its high-end, elegant TV and audio products. The global brand is passionate and proud of its exceptional innovative strength, tradition and perfect craftsmanship "Made in Germany". Its unique combination of German engineering, excellence, exclusive design and sustainability has shaped the brand's culture. Yet, the tradition-rich manufacturing plant and the high-tech production site at the headquarters in Kronach, Upper Franconia, are the very heart of Loewe.
www.loewe.tv
Press contact:
(please do not print)
Redaktionsbüro Stehle
Emdener Straße 5
90425 Nuremberg
Germany
Phone: +49 911/ 3 777 900
Mail: redaktionsbuero-stehle@t-online.de
Kategorien
212

National

48

International